Float & Hike: 10 Day Trip on the Tatsenshini, Alsek, and Yakutat Coast
A Fast and Fantastic Trip on the Tatshenshini & Alsek Rivers
The Tatshenshini–or "Tat" for short–is an epic journey starting in Canada's Yukon. From there, you float and paddle downstream on the Tat through the Tatshenshini-Alsek Wilderness Park, merging into the Alsek River, and ultimately ending up in Alaska's Glacier Bay area.
Along the way, the river carves through pristine wilderness. Getting permits for this long, international trip is one of the most competitive permits to land, and it's not hard to see why! In fact, this is the only float trip in Alaska popular enough to even require permits. Between the towering mountain ranges on either side of the river, the many glaciers alongside, and the icebergs floating through the river, the scenery is unforgettable.
We were lucky that some very motivated friends of ours navigated the permitting process and the itinerary logistics, meaning we could just tag along. Taking turns with the logistics is one of the wonderful things about finding our community and building strong relationships with other outdoor adventurers.
We had a group of 11 people, primarily using 14-foot rafts to navigate the river. A couple of group members also brought packrafts. We blasted down the Tat extra fast! We reached our takeout point in only 6 days, while most trips through the area take about twice that long. Our group was full of ambitious people on tight schedules, and fortunately the group had the collective skills to take on the task of covering so many miles so quickly.
Different Paces, Different Goals
I went into this trip with some hesitation for two reasons: 1) the weather forecast was just awful, and 2) I wasn't feeling my best due to having recently undergone the egg retrieval phase of IVF. I was feeling the hormone withdrawals pretty intensely, and in this state the idea of being cold and wet for days on end did not sound like a fun time. Our first camp was rainy and dreary, as forecasted. But thankfully, the forecast wasn't as bad as we feared, and the weather got better and better as we made our way downriver.
The Tatshenshini & Alsek float starts with a bang: the first day is a big whitewater day, with most of the major rapids on the trip. The river winds its way through a narrow canyon, dropping through rapid after rapid. It was definitely an exciting ride, but not too scary. Our second day was more dry, with a somewhat slower pace through lower-class rapids.
As the weather began to clear, the mountains revealed themselves above us. The scenery just got better and better! Despite the short window of time we had for the float, we still made time for some side hikes. We hiked to see glaciers, hiked up a side stream and floated down on packrafts, and of course, took in plenty of mountain views!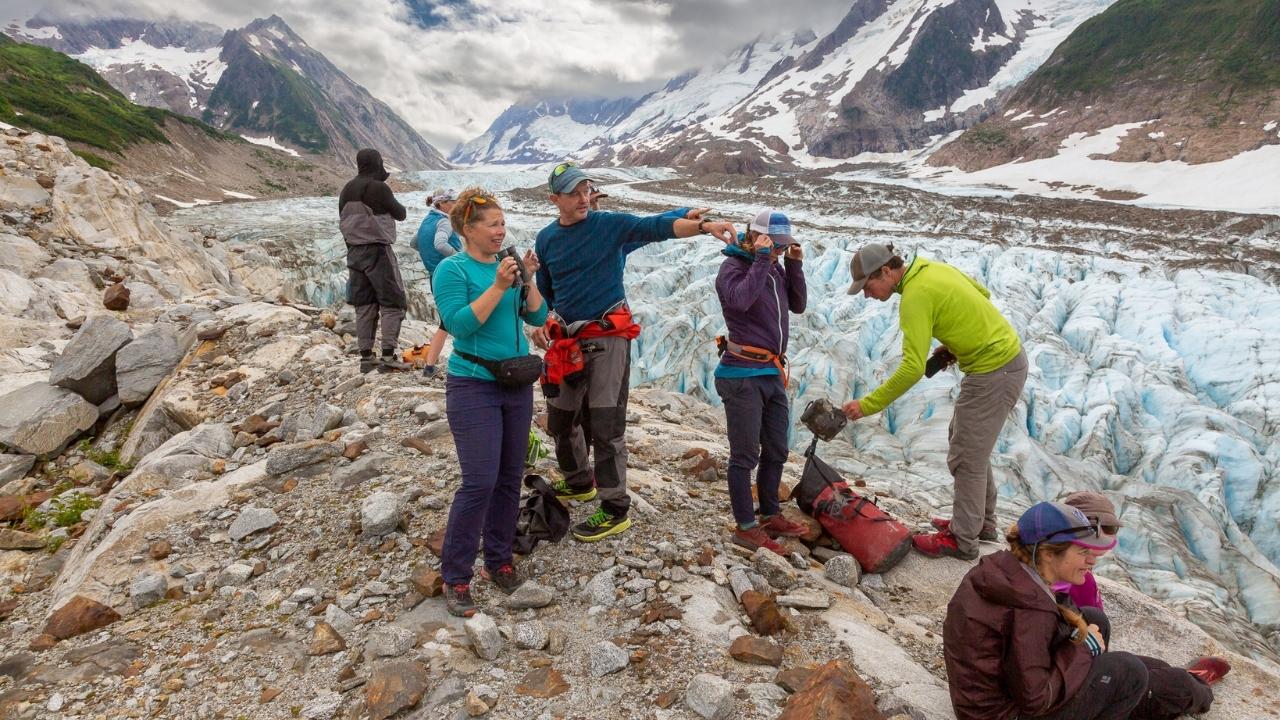 While many of my outdoor trips are quiet and reflective, this one had a whole different feel. With a larger group, the energy was higher and more social. Two of our group members had birthdays during the trip, including my husband Luc, and it was so delightful to celebrate them in the midst of this magical wilderness.
We've been going through a fertility journey which I've shared about a few times before. Just a couple weeks before this trip, I had gone through an egg retrieval procedure, which left me feeling low energy and moody. This wasn't a great time for me to take on a huge challenge, but quality outdoor time is so restorative for me, especially in community. So, this float trip came at the perfect time by giving me quality time in nature with friends without a huge physical challenge.
Meanwhile, my husband was itching for adventure. Luc paddled every single rapid in his packraft, getting the level of challenge and skill building that he was really craving while I took things at a more relaxed pace in a bigger boat. This choose-your-own-adventure option is rare on our trips; typically we have to develop a mutually satisfying plan & stick together. At this point in our journey, though, this was just what we needed. We both got our needs met: I got relaxation, Luc got adventure. And at the end of the day, we still got to experience this amazing place together.
One interesting observation from this trip: when we finished, I noticed it was easier to reintegrate back to my normal life than it typically is. Since this trip was highly social and most of the decisions were made for me, I don't think the relatively smooth reintegration was a coincidence!
Extending Our Trip to Yakutat
The float portion of our trip ended at an air strip about ~5 miles from where the Alsek empties into the ocean. Most of our group planned to fly home from there, along with the big rafts. Our buds Eben, Natalie, & Chris were instead planning to extend the trip with a 40-mile beach walk to Yakutat, and at the last minute Luc & I decided to join in!
This was a total game-time decision, but the weather was so beautiful when we were deciding…even though there was an 'atmospheric river' in the forecast, it was hard to believe. Ultimately, we just weren't ready to head home quite yet. We made this last minute decision work by piecing together extra food & fuel from folks who were heading home and could spare their extras.
This portion of the trip started with a short packraft down to the coastline, followed by hiking along the beach northwest to Yakutat.
An Unexpected Encounter with "Rapids"
At the beginning of our bonus adventure, we were floating down the very end of the Alsek River through heavy fog. Visibility was poor, and we heard the splash of rapids coming up. This surprised us, because we weren't expecting any whitewater.
We kept floating down the river…no rapids. We heard them again. Still nothing! We were mystified. What were we hearing??

After quite some time of this, we finally found out our "rapids" weren't rapids at all. We had come upon hundreds of seals! The sound we heard was actually the seals leaving the beaches they'd hauled out on and splashing away when they heard us coming.
When they saw us, they swam up around us. They were curious and playful, poking their wet little heads out from the water to see what we were up to. They followed us down the river for a while, the mountains serving as an incredible backdrop. Those moments with the seals made the entire add-on to our trip worthwhile.
Whales and Weather up the Coast
Our first day of walking up the coast was lovely. We had nice sunny conditions, the walking was easy, and we were in good spirits. After that, things took a turn. The weather became just terrible. Rainy, cold, windy, and miserable with little relief, it was anything but picture perfect.
Fortunately, on the second night we found a forest service cabin we were able to spend the night in and dry off. A huge win! The final night it was storming so hard that we sought out cover in an alder forest to protect us from the wind and rain.
Despite the gloomy weather, we found all sorts of cool stuff along the coastline. Besides some very cool driftwood, we also found a whale carcass that had washed up on the beach. The costume theme continued too – Chris donned one of his when we came across this huge tree stump throne anchored into the beach.
While most of the walking was pretty smooth, my morale was pretty low for a lot of this portion of the trip. I'm so glad we went for it, but the trip extension still felt humbling in the moment. It served as a good reminder that sometimes when you're on the fence, it can truly go either way! Sometimes it doesn't end up being perfect weather and happy times. Sometimes it's just a slog! And that's ok. It gets better, it gets worse. It's all part of the beauty of showing up over and over when it comes to our time outdoors. Part of the process is integrating our good days with our bad days.
These kinds of experiences are where mindset tools really shine. I won't sugarcoat it, I had some rough moments out there. On top of the poor weather, I was also in a deluge of hormones and wasn't feeling very strong physically or mentally. It's important to acknowledge that those biological realities in our bodies color so much of what we think and feel. That really felt real to me on this segment of the trip! I struggled with mileage and conditions that would've been easier for me a couple of years ago. It was a little bit of an identity crisis, and I'd be lying if I said I was having fun for those gloomy days.
Mindset tools don't make the bad days go away. They don't eliminate negative thoughts. But they can help us navigate the hard times so they don't overwhelm us. And they remind us that even on our bad days, we have the resilience to handle it, even when things get worse.