We know how to hunker down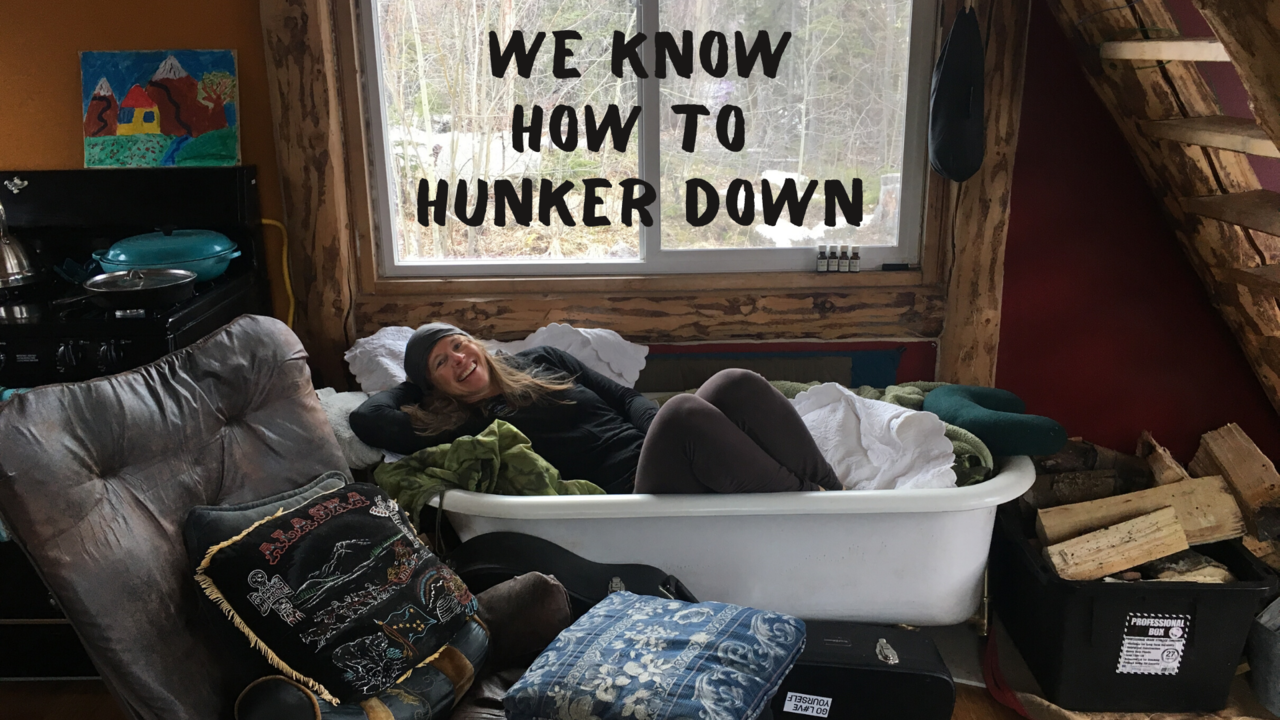 What a world we find ourselves in! At the moment of writing this (March 29, 2020) people around the globe are social distancing, taking shelter in place, and hunkering down due to the COVID-19 pandemic. We're isolated, out of our normal routines, and in a time of huge uncertainty in our world.
[Also a huge shout out to those in critical operations who can not work from home and are on the front lines of the pandemic. Thank you for your work.]
It's a global experience that those of us in the north know a lot about. We know about isolation, spending lots of time inside, not knowing how long the storm will last, and the impact that leaves us with. We know about cabin fever. We just came off a long, dark winter, and survived pretty much intact.
Of course it's also true that while similarities exist, this is also very different from a typical winter isolation. For many of us, winter hunkering down involves potlucks, tea with friends, game nights, and visits with elders that aren't an option at the moment.
In some ways that makes this quarantine experience more intense. And the lessons we've learned from long, dark winters even more important.
Cabin fever -- "distressing claustrophobic irritability or restlessness experienced when a person, or group, is stuck at an isolated location or in confined quarters for an extended period of time. (wikipedia)" -- is real, but it's not inevitable.
[Illustration by Wolf Erlbruch, from I'll Root for You & other poems by Edward van de Vendel]
I reached out to people in the SMH Training community to find out what they've learned about cabin fever, hunkering down, and thriving when times are dark. Here's what they had to say:
Keep perspective:
Don't set expectations too high with long to-do lists that wear you out. Take it slow, make time to enjoy the new pace of life.

Take advantage of quiet time to recharge

It's ok NOT to pick up a new hobby

It's ok to rest

Learn to feel okay with not being "productive" in a traditional sense

Acknowledge it's difficult, especially as an extrovert

If clues of cabin fever start setting in, it may require "MAKING" ourselves or "forcing" ourselves to do activities that will lift our spirits.

Make a list of small, accomplishable goals you can mark off the list and feel accomplished. List should include fun things you want to do, not just chores.

Find something to focus attention and energy too. Something serious (i.e. reading literature, something otherwise meaningless (i.e. doing the splits), and something silly (i.e. juggling) Making progress on these tasks is motivating!

Putting on "real clothes" helps motivation

Talk to a friend about any anxieties you have, they may not have the answer, but you may come away with a different perspective

Reflect on what you're thankful for

Schedule in self-care time and time to connect with others

Create a simple schedule. Works incredibly well for kids and surprisingly well for adults too!
Notice early warning signs for when cabin fever might be setting in:
Pessimistic attitude

Grumpiness

Irritability

Getting upset for no real reason

Feeling restless

Anxiety

Not wanting to go outside

Feeling lethargic

Sadness

Lack of motivation

Talking to your dog too much

Feeling down and not wanting to talk to anyone

Feeling socially awkward from only talking to myself for so long :)

Refreshing the same ol' screens

Sleeping too much

Not starting or finishing projects

Body aches

Feeling tired all the time

Deviating from a schedule

Eating for no reason

Wanting to listen to Sia too much (or any other sad music)
Find things that bring you smiles and laughter, it's the best medicine!
Dance party with your favorite dance music (Romeo Santos bachata songs or Beyonce's "Grown Woman" for example :) )

Do something silly everyday

Watch your favorite comedians or comedy movies

Practice juggling or new fun activity

Live with and/or date someone you want to annoy and have annoy you forever :)

Game night with loved ones, quality time
Get creative with your activities and keep trying new things:
Sweat and see the sun everyday

Focus on slower paced activities that take more time & attention. Art projects, house projects, reading, writing letters

Enjoy paper books and magazines over screen time, read a book you want to read, not one you "should" read and is a chore

Stay off the computer

Make art, music, dance

Drink water and tea

Write sweet letters to friends/family to brighten their day

Call Mom

Reconnect with friends you haven't talked to in a while

Journal

Find an art project and do a little everyday, find fellow crafters on social media, get tips of activities to do

If you live alone, find a pod of people you can do things with while social distancing

Don't drink too much

Find ways to get close to nature- make salmon leather, collect materials on a walk, then draw them

Do as much yoga as possible

Learn a new skill, try somethings new (recipe, craft, hobby)

Stay on top of regular chores

Do things you love to do. Things that are pampering, creative, take a lot of time.

Cook and call friends and family, like a virtual dinner gathering

Contribute to relief efforts

Actually call friends and family, don't just text.

Establish a pen-pal you connect with daily

Listen to the world around you- birds, neighbors, wind, etc.

Get back into an old hobby (i.e. knitting, baking, etc.)

Change your indoor situation, brighten the room with lights, put a new oil in the diffuser

Talk to neighbors from the porch

Deep intentional breathing

Go outside and stretch or take a deep breath

Organize

Make plans for the future/dream
I hope you pull a few of these strategies from the list and put them into practice in your own life. We're all in this together, even if we're physically distant right now!
P.S. Also, I've been writing about this a lot on Instagram lately. A few relevant posts: Social distancing outside, Bursting at the seams, Trip-brain vs. internet brain, and Everything changes.